This final End of Year list of the decade reads like a microcosm of the chaos of the nine years which went before it. Here there are pop albums made by underground musicians who can't have expected anyone near a chart to hear them, R&B records made by rappers, pop records by rock bands and a million experiments in sound: from an album made of the sampled sounds of pieces of plastic to bluegrass revival. We are now in a place where it doesn't seem absurd to place bandcamp sweethearts next to house DJs and chart-topping millionaires because we all listen to music on platforms which have them just a click apart anyway. 
We leave the decade with new icons whose names are scattered throughout this list: musicians like Blood Orange, Tyler The Creator, FKA Twigs, Danny Brown and Charli XCX who we simply hadn't heard of ten years ago, and the behind-the-scenes revolutionaries like the producers of PC-Music who started the decade pastiching commercial music from their bedrooms and ended it writing the genuine commercial hits of today, reshaping the sound of chart music for the better. We also leave this year with new stars, from Billie Eilish to Little Simz and Floating Points, who we may well be speaking of in the same terms in ten years time. We celebrated the 80th anniversary of Blue Note records (which the header of this year's list pays tribute to) while passed icons Miles Davis, Prince, Leonard Cohen and Arthur Russell had works unearthed which added to the depth of their legacies. We lost a few heroes too: João Gilberto, Scott Walker, David Berman, Kieth Flint and Bushwick Bill being just a few names among many. Many of the narratives which have emerged around music journalism are represented here, from the burgeoning London jazz scene, the reggaeton revolution and the grime takeover, but some of the most telling stories are not: the unstoppable 'Old Town Road' for example was a history maker specifically because it has nothing to do with albums. Most of all though, music is a perpetual provider of hope – giving voice to the forgotten, allowing the ideas of the future to be taken for a spin, providing resilience in the face of tyrannical forces, or simply daily reassurance from songwriters who capture the essence of what's means to be alive and – in clubs, gigs and living rooms – make the living fun.
This list was compiled by a music fan with nothing better to do, based only the albums I managed to hear this year, featuring bias and ignorance of critical consensus. It is instead based solely on the music which impacted us, and which we enjoyed and listened to the most. From top to bottom, we consider all of these albums to be produced by incredibly talented individuals whose music this year will provide pleasure and inspiration for many more to come.
100. Plastic Anniversary – Matmos

99. Flamboyant – Dorian Electra

98. Odds Against Tomorrow – Bill Orcutt

97. GINGER – Brockhampton

96. Bird Songs Of A Killjoy – Bedouine

95. Placeholder – Hand Habits

94. Designer – Aldous Harding

93. Infest The Rats' Nest – King Gizzard & The Lizard Wizard

92. I Was Real – 75 Dollar Bill

91. Malibu Ken – Aesop Rock & Tobacco 

90. Ibibio Sound Machine – Doko Mien

89. Psychodrama – Dave

88. Omoiyari – Kishi Bashi

87. Triage – Methyl Ethyl

86. A Long Red Hot Los Angeles Summer Night – Blu & Oh No

85. Good At Falling – The Japanese House

84. Late Night Feelings – Mark Ronson

83. Western Stars – Bruce Springsteen

82. Apollo XXI – Steve Lacy

81. Bandana – Freddie Gibbs & Madlib

80. Braindrops – Tropical Fuck Storm

79. 1000 Gecs – 100 Gecs

78. There Existed An Addiction To Blood – Clipping.

77. Cuz I Love You – Lizzo

76. Anderson Paak – Ventura

75. All Mirrors – Angel Olsen

74. Mr. Muthafuckin' eXquire – Mr. Muthafuckin' eXquire

73. Secrets & Escapes – Brother Ali

72. A Distant Call – Sheer Mag

71. Legacy! Legacy! – Jamila Woods

70. uknowhatimsayin¿ – Danny Brown

69. Injury Reserve – Injury Reserve

68. The Imperial – The Delines

67. Twelve Nudes – Ezra Furman

66. Engine of Paradise – Adam Green

65. I Also Want To Die In New Orleans – Sun Kil Moon

64. Free – Iggy Pop

63. B-Sides & Rarities – Ethan P. Flynn

62. We Get By – Mavis Staples

61. Charli – Charli XCX

60. Fongola – KOKOKO!

59. ZUU – Denzel Curry

58. Jaime – Brittany Howard

57. Titanic Rising – Weyes Blood

56. The Plugs I Met – Benny The Butcher

55. Celia – Angelique Kidjo

54. Thanks for the Dance – Leonard Cohen

53. Hi, This Is Flume – Flume

52. Memory Streams – Portico Quartet

51. Flamagra – Flying Lotus

50. Queen & Slim OST – Various Artists

49. The Age of Immunology – Vanishing Twin

48. Iowa Dream – Arthur Russell

47. Seeing Other People – Foxygen

46. i, i – Bon Iver

45. A Quiet Farewell 2016-18 – Slauson Malone

44. Nothing Great About Britain – Slowthai

43. Ana Frango Électrico – Little Electric Chicken Heart

42. Trust In The Lifeforce Of The Deep Mystery/The Afterlife EP – The Comet Is Coming

41. Crushing – Julia Jacklin

40. Return To Center – Kirin J Callinan

39. Remind Me Tomorrow – Sharon Van Etten

38. Dedicated – Carly Rae Jepsen

37. Amadjar – Tinariwen

36. Norman Fucking Rockwell – Lana Del Rey

35. Kankyō Ongaku: Japanese Ambient, Environmental & New Age Music 1980-1990 – Various Artists

34. Cykada – Cykada

33. Leaving Meaning – Swans

32. Caligula – Lingua Ignota

31. COIN COIN Chapter 4 – Matana Roberts

30. Lost Wisdom Pt. 2 – Mount Eerie & Julie Doiron

A hushed work of half-revelations and slow transitions: the third album made by Phil Elvrum since the death of his wife is notable for the sudden presence of a companion in his songs, a remarkable shift from the desolate loneliness of A Crow Looked at Me and Now Only. Dorion collaborated with Phil ten years ago on the last Lost Wisdom, but Elvrum's world couldn't have changed more radically by the time of this second excursion. The passing of his wife and dissolution of his recent fleeting marriage haunt these poignant vignettes from his daily life in which time passes, things feel easier, and yet even the notion of 'moving on' from an event as devastating as the passing of the mother of his child feels like a complete misunderstanding of everything Elvrum has made it his mission to convey about death. It's a more welcoming record; not only because of the rustic field recordings wrapped around these lo-fi compositions or Dorion's sweet voice, but also thanks to Elvrum's personal and ongoing conversations with the listener about death, love and living. 
29. Shepherd In A Sheepskin Vest – Bill Callahan

For an artist as stoic as Bill Callahan, his first LP in five years feels like something of a revolution. No more eight-track collections of eight minute epics, there are 20 tracks on this scrapbook album and each one feels like an ode to one particular moment unfurling like a diary across its run-time. There's a dark secret too *whisper it*… this one's about happiness. When introducing his song 'The Wish', Bruce Springsteen used to joke that there was nothing less rock and roll than singing about your mother… but even The Boss never dared write a song about being happy. But that is what Callahan is doing here, in this calming collection of songs. Spending time travelling and starting a family, it's music which sounds like dust settling. On 'Son of the Sea' he sings "I got married to my wife. She's lovely. And I had a son/giving birth nearly killed me/the panic room is now a nursery/and there's renovators renovating constantly". He uses that looming voice to ruminate on family, the countryside and his inner life, and the combination of charming folk instrumentals and Callahan's utterly unique lyrical style seeks to offer the listener hope for the same should they want it.
28. Two Hands – Big Thief

Billed as the "Earth Twin" of the cosmically-minded U.F.O.F., which came just a few months earlier, Big Thief's second album in five months is a startlingly simple collection of folk-rock songs which discard the former's psychedelic edges entirely. Recorded at Sonic Ranch studios in the scorching Texan Chihuahua desert, the songs are stained with the dusty tension of summer's peak – from the sharp titles 'Wolf' and 'Cut My Hair' to the guitar freak-out on 'Not' which derails the gentle Lindisfarne-esque folk which typifies the rest of the record. Pitching intricate folk ballads in the most straightforward terms is the album's USP: each is sold by the weirdo crooning of Adrianne Lenkler, the intricacies of the guitar work and gently tapped percussion alone – but the result is as involving as the hypnotic U.F.O.F., firm proof that good ideas can sustain being presented in their simplest form. 
27. Pang – Caroline Polachek

After gaining writing credits for some of the most commercially successful artists of the decade, Pang is Caroline Polachek's pitch to finally eradicate the lines which have historically divided the indie and mainstream: an underground artist making intimate music with the sounds of the Billboard Top 40. Produced in part by the PC-Music alums who started the decade mimicking the sounds of commercial pop and ended up changing it forever, Polachek's songs stretch the limits of the pristine production of pop hits, devolving into sheer psychedelia on the entrancing 'Parachute' or the impassioned balladry of 'So Hot You're Hurting My Feelings'. It's music which seems intent on expanding perceptions, bringing oddball production and her underground roots into the purview of accessible, indelible pop music. 
26. Thank U, Next – Ariana Grande

Produced by a woman who has endured several agonising hardships across her young life in the most public ways imaginable; Ariana Grande's second album in five months is one of bulletproof songwriting and emotional resilience. Encapsulating unique and painful circumstances without stretching the pop format which put her at the top of charts worldwide, Thank U, Next ingeniously takes the familiar subject-matter of this century's commercial hits – money, clothes, sex – but deploys them as reckless antidotes to a barely-concealed pain. Both 'Make-Up' and 'Ghostin'' twist millennial colloquialisms  to her own end; the latter describing the agony of loving someone while mourning another, "ghosting" her finance for a man who is now just a memory. Other tracks see Grande indulging completely in her worst instincts: 'Bad Idea' is an ode to self-destruction, while '7 Rings' reduces all in its wake to absolutely materialism using the melody of 'My Favourite Things': "you like my hair? Gee thanks, just brought it!". 'Fake Smile' samples Wendy Rene's 'After Laughter (Comes Tears)' and sees Grande holed-up in the mausoleum of fame, expected to retain an impossible public pretense. The title track is now an iconic self-pride anthem, but the album ends one song later with the ear-worm 'Break Up With Your Boyfriend, Cus I'm Bored'. It's a fairly conventional lustful banger but, on this uniquely compelling broadcast from the A-list, it's a cliffhanger ending; darkly inferring that there's no guarantee Grande's better angels will prevail.
25. Purple Mountains – Purple Mountains

It's hard to separate these songs from their part in one of the most saddening stories from the music world in 2019: the suicide of the remarkable David Berman of Silver Jews, just a month after he released his first album in a decade. It was a startling reminder to those who enjoyed the ample wit and gallows humour of this new release that an artist's lyrics aren't just pull-quotes for a tea towel: they're the sentiments of a real person, whose words don't come from nowhere. It shouldn't have been so shocking, as Dan Bejar aptly put it: Berman's writing had for thirty years possessed "wisdom that came from something, you know, damaged or damaging". All that can be said with certainty is that the album Purple Mountains exists, and it is excellent. With a darkness off-set by the comforting familiarity of soft-rock, these ten songs are fast, tight and brim with the wit and perspective which defined Berman's work. Indelible lines come thick and fast, from the darkly catchy "you see the life I live is sickening/I spent a decade playing chicken with oblivion",  the rueful "lately, I tend to make strangers wherever I go" or the deadpan "if no one's fond of fucking me/Maybe no one's fucking fond of me/Yeah.. maybe I'm the only one for me". These words may not have saved their author, but they are a generous gift to those still suffering a similar pain. 
24. It Should Be Us – Andy Stott

Taking the sounds of Detroit techno and slowing them to a crawl is the draw of the meditative and serious music of Mancunian Andy Stott. It Should Be Us is at once a simplification of his radical output this decade – stripped of the experiments in vocals and grime-production which have flavoured various releases – but for this very reason it's also perhaps the strongest condensation of the ethos of his music. Each of these songs are dense and cumbersome; the instrumentals are often stalked by a deep and looming kick drum which threatens to overwhelm them entirely. Shattered vocal fragments, stunted synths and off-beat rhythms lend a deep cloud of anxiety to the whole experience, which often feels as if Stott has buried you under the club. For a genre of music which lends itself to easy hedonism, this exercise in straight-faced stubbornness feels like techno being dragged backwards through the bush of all that, making its trademark sounds feel dangerous again in the process. 
23. Dogrel – Fontaines D.C.

Quickly paired with the raucous and class-conscious British punk scene which counts Shame and IDLES as their new champions, this Dublin-based four-piece initially seem to share some of the traits which broke the Arctic Monkeys' over fifteen years ago: rough and raucous guitars, ear-worm choruses and a leader singer whose northern-Irish accent is as thick as Alex Turners' Yorkshire drawl. But there is a more mature patience to Fontaine D.C.'s music than is immediately apparent. 'Sha Sha Sha' unfolds with a unforgivingly tensile groove, not a dance-floor thrash. The lyrics are more ruefully poetic too, the record opening with the perfect: "Dublin in the rain is mine/a pregnant city with a Catholic mind", a degree of elegance unsurprising for a band who came together over a shared love of Joyce. Grian Chatten doesn't so much narrate the desperate scoundrels of the city as embody them: 'Too Real' sees its narrator claiming "none can pull the passion loose from youth's ungrateful hands/As it stands, I'm about to make a lot of money! Gold harps in the pan!" Chatten's voice is a gift, delivering the songs with the stateliness of a documentary-film's narrator, only his characters have more ambivalence about their subject.
22. Songs of Our Native Daughters – Our Native Daughters

Led by country-icon Rhiannon Giddens, this is a record which reclaims the bluegrass traditions of the African-American folk groups which have been all-but written out of history. Giddens is joined by Amythyst Kiah, Leyla McCalla and Allison Russell and the four women yield their banjos like weapons on these songs, reclaiming a culture and making joyous music in the process. They celebrate the resilience of black women past and present while threading a dark history through the core of the record. On 'I Knew I Could Fly' McCalla sings as Etta Baker, a Piedmont blues guitarist whose husband made sure her career never was allowed to subsume his power over her, and on 'Barbados' a poem by English poet William Cowper written in in-substantive dismay of slavery is read aloud: "I pity them greatly, but I must be mum/For how could we do without sugar and rum?" The record would be nothing without the lightness of touch they bring as players, each bringing their own styles to these songs: Kiah thrashes a soulful blues, McCalla stretches towards jazz. When they all come together vocally and instrumentally, like on the jubilant 'Moon Meets the Sun', the results are glorious. "You make us hate our very skin/but we're dancing! When the day is done/the moon meets the sun/we'll be dancing!"
21. African Giant – Burna Boy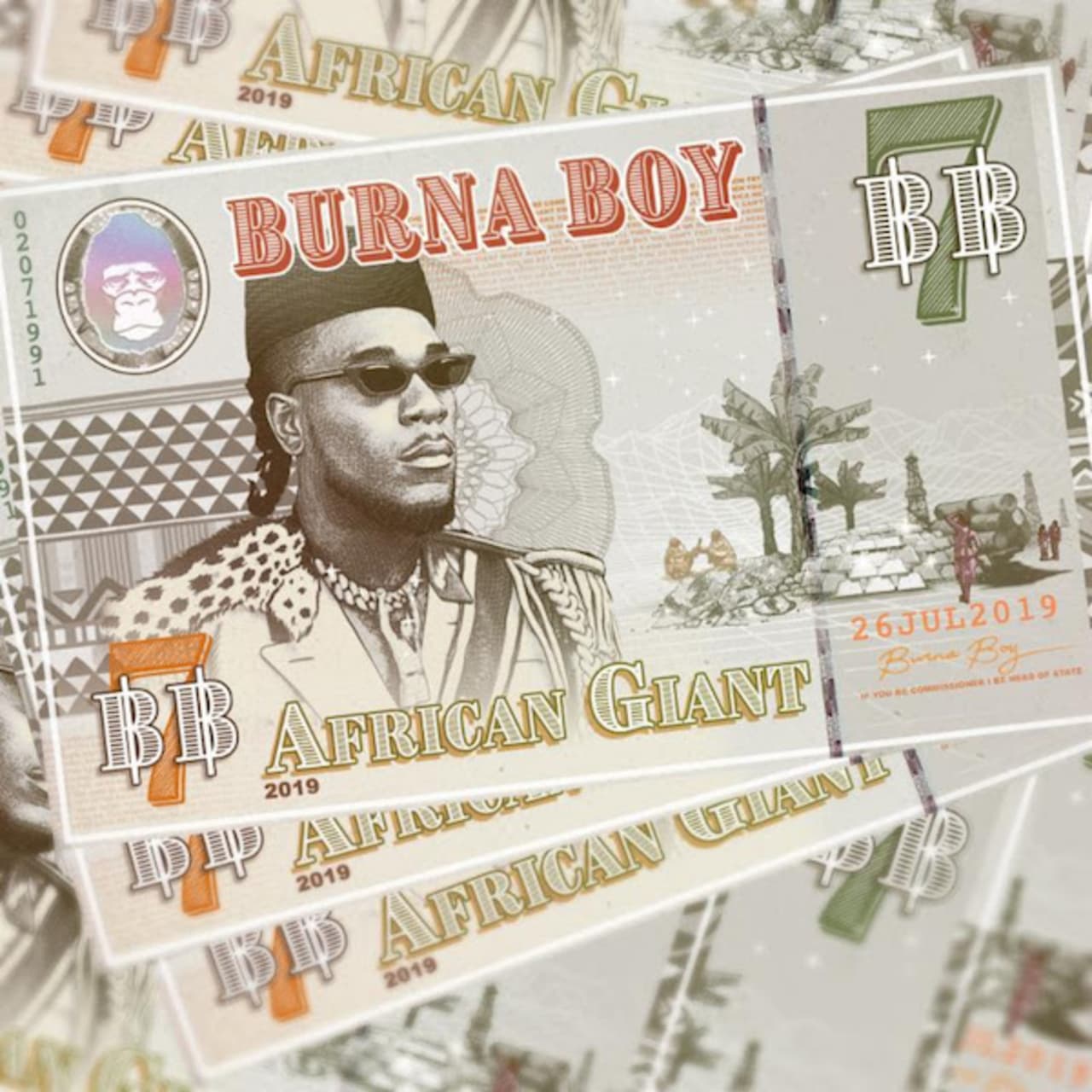 Named after the outraged comments he made upon seeing his name written in minuscule font on a Coachella poster at the start of 2019, the Nigerian Burna Boy (Damini Ebunoluwa Ogulu) closes a year which would now almost certainly see it  written in .200 bold. Despite the stadium shows and Grammy nominations, Ogulu's revenge was a musical one: making a record so undeniable that he overcame the phenomenal challenges facing an African artist looking to make it in the West, with a language barrier being the least pernicious of the obstacles. Ogulu represents the culture and energy of Nigeria while addressing the issues facing the nation-at-large through a dense track-list of afro-beat hitters and smoother R&B cuts. It's unmistakably a 2019 rap record, but shot through with Burna's heritage and the sounds of his country. Drum loops are more organic and metrical, cut with rhythmic guitars which evoke the stylings of Fela Kuti, one of Ogulu's inspirations. The title track infectiously showcases a musician uncompromising about his heritage, intoning his now infamous words "I'm an African gi-ant" with a dusty drawl. There are sweaty slow jams here, celebrations of wealthy men like Aliko Dangote who made it, and nods to a corrupt society which makes it almost impossible for most young Nigerians to do so. Despite modelling himself on Western tastes, Burna isn't afraid to point a finger at the role of nations like the UK in this either: 'Another Story' starts with a spoken-word lesson about the Niger Company, who sold off Nigeria's assets to the UK government in 1900: "incidentally, the Niger Company is still around today/Only it is known by a different name: Unilever. But that's another story".
20. Itekoma Hits – Otoboke Beaver

A rare opportunity to hear a punk record which sounds like it was recorded by the kids in school who stuck chewing gum under the tables and cut the brims off their skirts; Itekoma Hits is a fierce punk record out of Kyoto, made by four women with a wicked sense of humour but a rage which is very much real, and felt in every song. A short and sharp set, it's apt that the music seems to have its roots in the DIY scene which made The Damned and Dead Kennedys because it sounds like music produced by women who strap themselves into blouses and desk chairs during the day, and rage at their drum kits and guitars after hours. The straight-faced absurdity with which these songs are delivered feels distinctly Japanese. Its sensibilities remind me of Sweet Tooth Salaryman;  a Netflix curio about a diligent salesman who bunks off work to tour dessert shops in Tokyo, at which point he sometimes jets into space with ecstasy, or his head becomes a watermelon. Similar weirdness can be found in the messy chaos of Itekoma Hits, from the brilliantly titled 'What Do You Mean You Have To Talk To Me At This Later Date?' or the eye-rolling riffs of 'Six Day Work-Week Is A Pain'. It's a bracing record which takes the piss out of the very notion of not taking the piss at all times.
19. Grey Area – Little Simz

On her third LP, 25 year old MC Little Simz delivers a record so direct it's hard to believe that the first bar she spat didn't come this fully-formed. Each song is written with an undeniable pointedness, like the acapella opening of 'Boss' where Simz screams into the void "stop fucking with my heart!!" There are moments in songs this year as thrilling on the opener 'Offence' when the beat drops out and she yells the chorus "I said it with my chest and I don't care who I offend, a-haaa!" Political directness is present too: Simz tells a government who has overseen the Grenfell Tower fire and the Windrush Scandal to "take a walk in mine or any young black persons shoes in this age/all we ever know is pain/all we ever know is rage". The record's production is impeccable, representing the multiculturalism of her London roots on the ska inflection of 'Wounds' and the woozy mandolin flip of '100FM', referencing both pirate radio and grime godfather Kano. The music is as pointed as Simz's lyrics: the acoustic drums of 'Offence' hit with a thud, as do the post-punk guitars of 'Therapy'; a gospel-tinged ode to rejecting help, well-meaning or otherwise. Sometimes such single-mindedness is the source of the heartbreak Simz details in her songs, but it also produced this sharp and singular record: as she says: "I invested in myself… that's money well spent." 
18. When I Get Home – Solange

A tactile and textured record, Solange's tribute to her hometown of Houston, Texas is one which aims to recapture the energy of her adolescence rather than simply recount stories of her youth. Recorded between Houston, New Orleans and Jamaica, the record plays as a woozy, drunken reminiscence of the jazz, hip-hop and R&B which surrounded her as a teen. These short songs boast collaborators as wide as Gucci Mane, Earl Sweatshirt and Panda Bear, drifting between lo-fi synthesisers and funk rhythms. Solange was inspired by the use of repetition in Stevie Wonder's The Secret Life of Plants as well as music by Steve Reich, Alice Coltrane and Sun Ra, and the result is music which feels at once fleeting and timeless. Solange switches between singing softly, rapping loosely and drifting into lullaby odes to dreams and memories. On 'My Skin, My Logo' she raps lazily before finally giving up the act and breaking into giggles. It captures the sounds of African American art ingrained in Knowles despite the Texan reputation for whiteness – but as opposed to her overt A Seat At The Table, to take this record in solely political terms is to miss the sheer fun Solange has playing with sound and throwing back to the songs of her youth.
17. 2020 – Richard Dawson

On his previous record Peasant, Newcastle folk singer Richard Dawson delved into the world of medieval England, delivering character-driven folk songs from the perspective of the country in 400-600CE. Unexpectedly, and ingeniously, its sequel transposes that format directly onto the present day. Like Pure Comedy with far more earthly concerns, Dawson captures the essence and oddities of a society through intimate stories of particular people within it. 'Civil Servant' is told from the perspective of a university graduate trapped in an unforgiving job, delivering benefit cuts and taking refuge in Wetherspoons "after an unspeakably awful call with a grieving mother". These moments of isolation are mixed with the familial: 'Two Halves' is told from the view of a young boy playing football with his Dad screaming on the side-lines, and 'Fresher's Ball' from a single Father staving off tears as he leaves his daughter at University. 'Jogging' is a more uplifting tale of a man taking up running to stave off his depression, and the vocoder ridden "jogging, jogging!" of the song's chorus is just one example of the rough electronic elements Dawson shoots through these songs, which are at once quaint and humorous. There's something innately funny about 'Black Triangle', a song which explains a man's obsession with UFO hunting in the first verse and how his wife met her new boyfriend at palates in the second. Others are resolutely grounded in the political climate of the day.  The ten-minute 'Fulfilment Centre' is set in an Amazon warehouse, with its workers pissing in bottles to make it to their targets: the worker heads home on the night bus at the end of a shift thinking "there has to be more to life/than killing yourself to survive". A fringe weirdness is laced through the record – like the digital murder ballad of 'Heart Emoji' or the end of the grounded 'The Queen's Head' about a family's pub being flooded, which ends with Dawson cooing "how little we are, in the mouth of the world/come hell or high water, how little we are" – something you don't get in your average Ken Loach film. Its a remarkably expansive work considering the detail of its songs, painting a portrait of Britain which is at once disturbing and enlightening.
16. This Is How You Smile – Helado Negro

Under the name Helado Negro, Roberto Carlo Lange used to make ambient music: the personal ballads of This Is How You Smile is testament to the distance he's travelled from that obtuse style, but it also feels like a record which could only have been made by an musician with those roots. A hazy fog of an LP which reveals itself over time, the Spanish language verses and constant presence of a haunted Portuguese guitar is a confident assertion of his family's Ecuadorian heritage. Lange's vocals are delicate but quietly beautiful, speaking with reminiscence about life as an immigrant's son. The album's title comes from Jamaica Kincaid's story Girl, painting the scene of an immigrant mother and her daughter, explaining the order of things in her new life: "this is how you sew on a button, this is how you smile". The thick production of the record allows for ecstatic breaks in the clouds however, like the pan-steel drums on 'Imagining What To Do' or the pop straight-forwardness of 'Running'. The scent of domesticisty and childhood pervades this record, which is just ambient enough to be universal, and just Ecuadorian enough to be uniquely his.
15. Miami Memory – Alex Cameron

Pivoting convincingly away from character study to autobiography is a near-impossible task, but it's something Alex Cameron pulls off with grace on his third LP Miami Memory. It takes a while to realise that the diatribe soundtracked by the deliciously chintzy synths of opener 'Stepdad' is a sincere one, rather than a piss-take. From the conservative-baiting 'PC With Me' or the lovesick title track – with its chorus "eating your ass like an oyster/the way you came, like a tsunami" – Cameron retains the grease which made his music great while gracing the record with unprecedented doses of sincerity. If solidarity with women is a major concern of these songs – be it the sex-worker anthem 'Far From Born Again' or the red-pill deriding 'Bad For The Boys' – it seems to stem from a gushing admiration for his new partner Louisa Zimmer. 'Other Ladies' is the perfect marriage of Cameron's grease-ball persona and these new declarations of love, singing "I don't even need those other ladies!" Gone are the toxicly-masculine internet-masturbators which lit up his previous Forced Witness; the insecurities are still there, but now they're all his.
14. SINNER – Moodymann

Some are happy to bring their music to the world, and others want the world to come to them. The latter is certainly true of Moodymann, and for him "the world" is Detroit, and it's enduring house-scene. He debuted this release by handing it out at a surprise barbecue in the city, and it's steeped the musical history which surrounded that gathering. By contrast, the LP's enjoyability should be universal. Moodymann's talent is to create songs from disparate samples, pulled together so seamlessly that it would be easily to believe they were conceived as one. These pieces are pulled from sources and styles quite disparate; 'Downtown' is both a sax-heavy jazz cut and a piece of lounge-disco, while 'If I Gave U My Love' audaciously interweaves Camille Yarbrough and Al Green's vocals as if they were in the studio together. The classic sound of these icons are major touchstones, from the Linn-drum sample on 'I Think of Saturday' which hits like Prince at his classiest, to the seductive 'I'll Provide' where Moodymann himself croons "I got something/For all your dirty, nasty needs" like a Marvin Gaye ad-lib. From the electro-house of Detroit to the sound of Motown going disco it's a record of another era, that feels like an invitation into a world only a privileged few know for real.
13. Angel's Pulse – Blood Orange

Listening to Blood Orange has always somewhat sounded like flicking through FM-radio, traversing the smorgasbord of sounds which define contemporary music as Devonte Hynes sets the tone of those songs before our very eyes. This is a man who has produced and written for Solange, Sky Ferreria, Beyoncé and Carly Rae Jepsen and this, his most casual collection (produced in just a year and sold as a humble mixtape), is perhaps his most easily enjoyable. Unfolding with the ease of a playlist and kissed by a summer warmth from the first instance of cascading vocals on 'I Wanna C U' into the cosy guitar solo of 'Something To Do' and the captivating funk of 'Dark & Handsome' and 'Benzo'. Flitting between genres with the ease of a batted eyelid – with features as wide as Toro Y Moi, Arca, JOBA and Gangsta Boo – Hynes traverses a dozen styles he helped to define this decade. 
12. Hiding Places – Billy Woods & Kenny Segal

One of the game's most elusive MC's – Billy Woods – shows his personal side on his collaboration with LA producer Kenny Segal, but in the daylight sounds even more isolated than on his broadcasts from the shadows. Speaking from the crooked house which adorns the records' cover, Woods is a true poet; reporting on a twisted world with a dark wit which borders on the unnerving. On opener 'Spongebob' he recalls a conversation with a depressed friend, proclaiming "nigga had the nerve to say 'You can't take it with you'… Fuck would I want with any of this shit? Dummy". The songs hum with a low-lying nervousness, Segal deploying acoustic drums, thick guitar and bass hits to keep the record on the edge even at its most musical. Spitting bars about his own low record sales, Woods doesn't limit his shots to own-goals, opening 'Spiderhole' by stating "I don't wanna go see Nas with an orchestra at Carnegie Hall/No man of the people, I wouldn't be caught dead with most of y'all". His words are rapped with a conviction which makes the apparent trolling even more perplexing; but the record is made by moments of poignant clarity, like on the depiction of the mother of a drug addict who "put chrysanthemums and daffodils in the burnt end of they crack stems". Such absurd and vivid imagery is worth the price of admission to this obscure musical hideaway. 
11. Crush – Floating Points

Weaving moments of serenity with surges of madness like the oil slick which adorns its cover, Floating Points (Sam Shepherd)'s third LP is an ode to stillness, stalked by the threat of descent around every corner. The jazz-stylings of his previous work are absent here: this is music inspired by live performance and made in five short weeks, and such urgency makes its beauteous compositions rough around the edges, pock-marked with imperfections and thrilling detours into 90s IDM. On 'Falaise', strings, flute and french horn are processed through the Buchla modular synthesiser, crushing their ethereal suite into a glitchy cacophony. Shepherd wrote the album while meditating on the world as it stands in 2019, and so it's no wonder that tracks like the thrilling 'Environments' emerged – cycling through calming flutters of sounds until being thrown completely off course by alarm-bell synthesisers, crashing the song into a state of total panic. Meanwhile the piano-led 'Sea Watch' and the tranquil 'Requiem for CS70 and Strings' sound like elegies. The title of the latter track encapsulates the magic of this album: uniquely bringing together the electronic and the analogue as if they were one and the same.
10. All My Heroes Are Cornballs – JPEGMAFIA

A purveyor of loose, genre bending tapes which feel like artifacts of the deep web, JPEGMAFIA  (Barrington Hendricks) continues to leapfrog expectations. The fragmented Veteran of 2018 felt like a new space for hip-hop, but his third album sees him stretching boundaries even further. A 45-minute venture into the avant-garde finds him experimenting primarily with form: pulling cohesive songs out of ideas which sound like they could easily be disasters. 'Free The Frail' begins as a sporadic banger and ends with the isolated vocals of folk singer Helena Deland, and opener 'Jesus Forgive Me For I Am A Thot' sees him crooning emotively over industrial raps which results in a song which feels simultaneously raucous and serene. Remarkably Hendricks writes, produces and mixes all the songs himself and their smash cuts, genre blends and scrapbook sequencing are tied together by the strength of his personality – at once thuggish and masculine, while also satirical, anti-racist and gender-bending. The songs are embedded in the language of the internet age in 2019, Hendricks spitting bars which include "incels gettin' cross cuz I crossed over/How they go from Anne Hathaway to Ann Coulter?" or the sharp "y'all deal looking something like Brexit/biting crackers and wonder why you anorexic." Listening to this album is to experience everything at once, and maybe hear a glimpse of the future. 
9. When Future Unfolds – Damon Locks/Black Monument Ensemble

By 1965, the civil rights movement in America centred around Chicago, a predominantly black city where only a minority of the population could vote. In an effort to bring African music to the people of the city, trumpeter Kelen Phil Cohran founded the Association for the Advancement of Creative Musicians there, and his Artist Heritage Ensemble began to play an innovative mix of traditional rhythms and young jazz musician's brightest ideas, bringing a cultural history and a sense of self-determination to the South Side neighbourhoods of Chicago. In an utterly modern sense, that is what visual artist Damon Locks attempts to recreate with his Black Monument Ensemble: a project which began with Locks sampling civil rights era speeches and traditional hymnals on his drum machine, and evolved into a 15-piece ensemble performing with great energy those very same songs as epic jazz and gospel suites live at the Garfield Park Botanical Conservatory on the West Side of Chicago. These live recordings capture renditions which clatter, devolve and build on the repeated chants of the core singers, but the compositions also have their eye on the present: the live instrumentation is intersected with clipped samples and electro-synths. Built for and by a community, these tracks privilege collective action. The central 'Rebuild A Nation' opens with a child singing hopefully "we can rebuild a nation, that's no longer working out". Soon she is joined by the army of 15, and the lullaby erupts into an anthem. 
8. Assume Form – James Blake

On the most appropriately titled album of the year, James Blake finally finds the proper home for his signature sounds: not the youthful posturing of Retrograde or the depressive blues of The Colour In Anything, but in the blush of new love. Sheathed in samples and vocal layers which evoke the balladry of Frank Sinatra as often as something which could be hopped-on by Travis Scott; from the very opening burst of piano-notes Assume Form invokes lullabies and waltzes among the high-hats and featured MCs. Some – like 'Into The Red' and 'Barefoot In The Park' – escalate through loops of strings and vocal layers toward ecstatic proclamations, while others are soft odes which suit well Blake's penchant for thick and luscious production. He has rarely featured his vocals as cleanly as on 'I'll Come Too' in which he proclaims "I'll slot right in between the cracks between you and him/I don't wanna go home/Shall we drive from zone to zone?/I wouldn't do this on my own/But I'm not on my own tonight". On 'Power On' he dreamily professes "I thought I might be better dead, but I was wrong/I thought everything could fade, but I was wrong…And where I least wanted to look, it came along"; the humility is utterly charming. The album ends on the most intimate note possible, with a song made just for her: the woozy 'Lullaby for my Insomniac'. Few albums wear love-sickness as flatteringly as this one. 
7. Ghosteen – Nick Cave & The Bad Seeds

Under the unthinkable circumstances of the death of a child, people respond in unexpected ways. Skeleton Tree, Cave's previous album, was the somber sequence of songs many would assume the artist would release in its wake. The tragic accident occurred during that album's creation however, making Ghosteen the first written by Cave about his grief, and grieving at large. It is the last thing you would expect. In the album's manifesto 'Burning Horses' he states that "everyone has a heart, and it's calling for something/And we're all so sick and tired of seeing things as they are". True to his word, this album is his phantasmagoria. Manifesting galleon ships, paradisial scenery and Buddhist doctrine, the fantastical perhaps works so well because the subject matter is already understood. Imagery comes and goes over some of the most beautiful compositions of the band's 40 year career: sprawling testaments which lack beginnings or ends, and just ebb and flow through synths that sound more like Tangerine Dream than The Birthday Party. The grand ascensions of songs like 'Sun Forest' and 'Ghosteen' – emulating the devotional crests of ashram music – are moments of unconstrained beauty; reacting to a very real tragedy with an otherworldly grace. 
6. IGOR – Tyler The Creator

Tyler The Creator is a musician who honed his craft after he became a household name, and his deep love for the sounds of 70's R&B and soul has been a very public affair: he can sometimes be seen professing his love for basic music theory on social media and learning piano after his second album was released. The remarkable achievement that is this messy record is an inclusive one then, not least because IGOR is presented in scrapbook style – with potential pop smashes delivered in their rawest form – but also because of the emotions laid bare in this cathartic piece of work. Tyler presents his own romantic subservience in no uncertain terms, and his lack of natural singing ability makes the edited notes he produces all the more stark, declaring himself his lovers' puppet in one of the LP's deepest lows and straining for Motown exultation on the bombast of wrought closer 'Are We Still Friends?'. The result is music which holds the listener close, and prompts them to beg its maker to wake up from the lovesick spell which makes the music so rich to begin with.
5. Beware Of The Dogs – Stella Donnelly

Stella Donnelly was 26 when she wrote her breezy debut LP, a veritable users guide to being a young woman in the 21st century which navigates both the suburbs of Perth and a dozen loathsome men. These men aren't just lovers: they're ex bosses, hipster snobs, politicians and – on the album's haunting emotional core 'Boys Will Be Boys' – her friend's rapist. The song broke Donnelly's fame when she uploaded it to Facebook in 2016 and it's easy to see why it struck a nerve: its barely-concealed anger tells the story of one specific act, and makes its horror universal. Beware Of The Dogs isn't defined by opposition however: Stella's wit and charisma brim from every song, capturing the mundanity of low-paid jobs and Christmas dinners in the sun over guitars as light and graceful as her lyrical touch. 
4. Father Of The Bride – Vampire Weekend

Unlike many of their blog-era peers now seen straining to capture the glory days of "rock n roll" or abandoning it entirely, Vampire Weekend reject the idea that anything in art can be absolutely original. Their brilliant fourth album wholly embraces the modern songwriting toolboxes of sampling and interpolation: the backbone of '2021' is a sample of Haruomi Hosono's 1980 song 'Talking' – an ambient track commissioned for the retail chain Muji – while the sweeping opener 'Hold You Now' begins as a Nashville ballad but breaks into a soaring Malaysian choir; a sample of Hans Zimmer's score for The Thin Red Line. 
Creators of hip-hop and R&B have had no problem embracing the freedom of studio technology, but Vampire Weekend is one of the first bands to do the same, often through real-world collaboration far outside their expected spheres. To name a few the album features Steve Lacey of The Internet, members of the Grateful Dead tribute band Richard Pictures, Danielle Haim, Dave Longstreth of Dirty Projectors, DJ Dahi, Mark Ronson, Chromeo and Ludwig Görranson, sometimes for a single guitar line. The results of being unconcerned with keeping rock 'pure' speak for themselves: this record is a joyous one, racing through influences as wide as The Stones, Tommy James, iLoveMakkonen, Cat Stevens and Lily Allen to paint a picture of both ecological crisis and domestic bliss. These songs don't sound like copies of others, they're not imitations but composites of regions and styles which are rarely paired; stitched together so seamlessly that every marriage is a happy one.
3. Kokoroko – Kokoroko

British jazz music is the unexpected site of much innovation at the close of the decade, with Sons of Kemet, Ezra Collective, The Comet is Coming, Moses Boyd, Portico Quartet and Têtes De Pois all making pioneering and energised music for a new generation. Kokoroko made the biggest impact of them all however, the vibrant and metropolitan closer to this LP – 'Abusey Junction' – having racked up over 34 million views on YouTube: an unprecedented splash for British instrumental music. It's not hard to see why this was the song to break the mould however: Kokoroko play jazz which is uncontroversial, but flawless in its execution – sublime guitar riffs evolve alongside horn solos which captures the rhythm of West Africa without sacrificing a looseness which allows for improvisation within the song's watertight structures. The tender 'Ti-de' is one of the most graceful medications to be released this year, while 'Uman' is urgent by comparison, insistent vocals forming the backbone of it's infectious groove. These four precise songs aim to please, and show that simple instrumentation and inventive playing is more than enough to make the world interested in this kind of music again.  
2. Girl With Basket Of Fruit – Xiu Xiu

While touring this album Xiu Xiu had to take some time off to tend to their mental health, and it's no wonder: this is truly tortured work, which negotiates and responds to some of the most difficult parts of our nation's pasts dredged up in the second half of this decade. Rather than the relentless onslaught of some noise groups, the album has extended periods of ambience often marked by strings which which play a little too intensely, making clattering synth rockers like 'Pumpkin Attack On Mommy & Daddy' all the more startling when they hit. The title of the album is a gender-switch on Caravaggio's Boy With A Basket of Fruit, after the band noticed that male martyrs tend to die like cherubs, while female ones die in fear and pain. A society turning on the vulnerable and the marginalised is the cause of the music's nervous disposition. 'Scisssssssors' is set in the Simone Hotel, an LA refuge for the homeless, while the stomach turning 'Mary Turner Mary Turner' tells the true story of 19 year old woman, lynched while pregnant, from the perspective of her unborn child. The song ends with Stewart stating simply "fuck your guns, fuck your war, fuck your flag". He fulfills his mission to ensure that America can never forget it wasn't so great to begin with by putting stories like these in song.
1. MAGDELENE – FKA Twigs

When an idea is executed perfectly, it's unmistakable. That is the feeling of listening to FKA Twigs, who has released just 2 hours and 20 minutes of music across the course of her recording career, each minute of it deliberate and valuable. A complete package: her releases come accompanied with body-distorting imagery which lends a face to the distorted sounds of her music, during her stage show she's adorned in costume and dances using pole and a Wushu sword, and her music videos pioneered a new breed of digital dysmorphia borrowed by everyone from Bjork to Travis Scott. That's without mention of her music…
Capturing the pain of being an outsider, made in the aftermath of a life-threatening illness, MAGDELENE is Twigs' return after a five year absence, and it too feels like a concept presented in totality. Named after the original woman scorned, it sees her crushed by a newfound fame earned not by her own art but through a relationship with a more famous man. The title track lays out tropes of the language used in writing about women like little bombs "a woman's hands/So dark and provocative/A nurturing breath that could stroke you/Divine confidence". The "unoccupied history" of which she speaks, vacant of women dismissed or shamed, is sharply contested by the sound of her music, with eery synthesisers and deep bass making her sound very much like the future. Sonically, there is a change from the harsh electronics brought by Arca on her previous releases. Her most intimate music to date is instead grounded by the soft electronic oddities of Nicolas Jaar and Oneohtrix Point Never, present in the Chilean arpeggios which levitate 'Mary Magdalene' or knock her melodies off their axis on 'Sad Day'. The production is immaculately detailed and compositions are adorned with fragments of electronic melodies, or subsumed by them entirely. 
What makes the record so unique are two facets of FKA Twigs' music few would have called the main attraction of her art: her personality, and her voice. She was once an artist deliberately remote and otherworldly, but MAGDELENE is the opposite. The change becomes clear on the magnificent 'Home With You', a song which begins with her voice dripping in layers of alien distortion which would have fit LP1, until a moment of connection with a lover shatters the mask. Twigs' voice is stripped to just a fragile falsetto, joined by cello and flute. Her unaltered voice is magnificent it transpires, in the lineage of the jazz starlets like Ella Fitzgerald who were her teenage inspiration. Twigs uses her soft intonation on songs wrought with heartbreak and submissiveness, singing "why don't I do it for you?/why won't you do it for me, when all I do is for you?" on balladic closer 'Cellophane'. Hers is an honest, complex portrayal of femininity. On the trap-inflected banger of the same name, she names her own sex a 'Holy Terrain', but such assertions can't null her devastation at a love lost on the raw 'Mirrored Heart', on which she coos "but I'm never gonna give up/I'm probably gonna think about you all the time/and for the lovers who found a mirrored heart/they just remind me I'm without you". As she sings these words, the throbbing acid-house bass threatens to swallow the pretty ballad whole. The dichotomy of feminism and vulnerability, of soft jazz and hard IDM: they all come together in completeness on MAGDELENE. 
Words by Liam Inscoe – Jones.